The new Mlily Bamboo Memory Charcoal range is here!
Monday, 4 May 2020 | Best Beds Direct
We live in a new age. As a civilisation, we are finding new ways to do old things. However, that doesn't always mean the new thing is actually a new thing. Often, it is something we have already done or used, but all of a sudden found a new purpose for it. Like I said, bamboo charcoal isn't something new. I was in the local supermarket a few days ago and saw a toothbrush made using bamboo charcoal. This may seem strange, and brings up visions of a dirty black toothbrush covered in the same stuff you use to fire up your barbeque.
Bamboo charcoal is naturally full of minerals and as such, has a high mineral content. It can be an excellent source of potassium, calcium, iron and sodium, and is often used as a fertiliser. You may be wondering where this fits in to mattresses, and what it can do for you. Bamboo charcoal is naturally very absorbent. This means it can soak up and absorb and dispel moisture. Where there is no moisture, there is no mould or mildew. Insects and critters sometimes found in your bed, like dust mites and bed bugs also need moisture to thrive. If moisture is reduced, then the life forms that rely on it struggle to survive. This sounds like survival on BBC2, and if I was talking about insects or wildlife in the Amazon I would agree. I'm talking about insects and life form in your bed though, which isn't good. All of these advantages makes bamboo charcoal more porous and allows it to absorb excess polluted air particles and odours.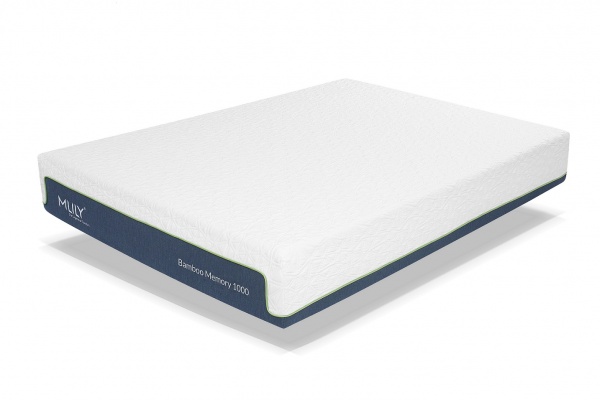 Mlily in their wisdom have decided to mix this totally natural and historically used material and put it in their mattresses. What they have done is infuse bamboo charcoal with their high quality and world famous memory foams. So now you get all of the advantages of memory foam, with the health benefits of bamboo charcoal. Sleeping on one of the new Mlily mattresses such as the Mlily Bamboo Memory 1000 will help you remain cooler and fresher throughout the night. Our perspiration gets absorbed by the infused memory foam helping to create and keep a healthier sleeping environment.
The Mlily Bamboo Memory mattresses are constructed in the same way as all Mlily mattresses. Using pocket springs and different types of foam. These pocket springs are bit different, as they offer Hi-Low performance technology. These springs are specifically designed to provide a firm support to the core of our body. This is because the core is the heaviest part, and where our body can sink into the mattress making the rest of us fall out of line with our spine.
These springs are topped with a layer of Bamboo memory and a second layer of flex foam to give the mattress stability. All of these great features are surrounded by an aero-flex support boarder which is essentially a block of foam going around the sides and edge of the mattress giving it side support. This allows you to use the full sleeping area, and give the mattress more structure.
There are three new mattresses, all with Hi-Low springs but with different quantities. Take the Mlily Bamboo memory 1500. This is similar to the 1000 but is a bit firmer. The flagship model is the Mlily Bamboo Memory 2500. Offering 2500 individual Hi-Low springs and a very nice supportive feel indeed.
All of these, along with the Mlily Dream mattresses are available to buy online through are uber cool website.
We also stock some Mlily mattresses in a bed shop in Thetford, so feel free to call us for more information!