Spice up your bedroom
Saturday, 13 April 2019 | Best Beds Direct
Spice up your bedroom
Are you tired of waking up to the same, old bedroom every morning? We want our customers to love their lie-ins. That not only means having the best bed to ensure you wake feeling rested, but having the right environment to make your bedroom a room that you can't wait to get home to!
The bedroom is often neglected – after all, why put effort into styling a room you mainly just sleep in – you may think? We want you to love your lie-ins. The first step to that is having the right bed… but there are many other ways you can freshen up your bedroom and make it somewhere you love to retreat to, any time you can.
Make it cosy
Soft, luscious fabrics in soothing colours are a great way of adding an extra dose of cosy to your bedroom. Why not treat yourself to an extra-snuggly throw to drape over the foot of the bed, some 'just for show' cushions in diverse textures like faux fur, silk or chunky knit, and a deep-pile rug to sink your toes into when searching for your slippers. Updating your light shades (or even just replacing the light bulbs) is also a simple way of setting the right ambience to help you lay back, relax, and hopefully catch some major Z's. Why not compliment your new look with a fresh headboard in casino crush sky or crushed velvet onyx fabric from Sweet Dreams, or cooling linen linoso orchid or suede sand from Bedmaster.
Up the romance
Pretty pastels, deep pinks, purples, and vivid reds are a sure-fire way of adding a romantic flair to your bedroom. Layered curtains in floaty fabrics, varying in opacity, and hanging an oversized mirror in opulent, French shapes or art deco frames will also add a touch of 'old Hollywood' glamour while making your sleeping chamber look roomy. Adding a new headboard in crushed champagne from Vogue, pacific damask colour from Myers, or plush velvet blush or the new tulip lagoon from Sweet Dreams will add an extra… je ne sais quoi!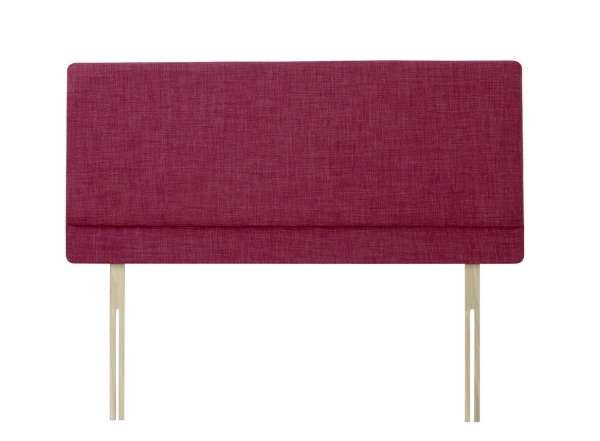 Minimalist magic
Minimalism might sound tricky to achieve, but it's easier than you think – and can make a world of difference to how relaxed you feel when you get home. Start with a general declutter of all surfaces – side tables and chests of drawers are prone to any old bits and bobs, so find a new home for anything that doesn't look beautiful, bin expired beauty products, and get out the duster. Keep walls plain, in light, airy colours like crisp whites, creams or pale greys. We'd recommend complimenting this with a discreet platinum damask fabric headboard from Healthbeds, textured velvet smoke headboard from Sweet Dreams, steel chenille or plush velour marine styles from Vogue, or faux leather black from Bedmaster.
Vibrant va-va-voom
Splashes of unashamedly vibrant colours in jewel-like tones, sunshine yellows, or beachy blues are an instant way of freshening up your bedroom with minimal effort. Statement walls are a popular way of achieving instant colour-boost results – but if you're too nervous to take the paint-pot plunge, why not add some fun artwork to the walls or hang some patterned curtains or blinds (we love sailor stripes, polka dots or palm prints). Adding a few tropical plants in various shapes and sizes will also add a pop of colour, and can be moved around easily if you fancy reshuffling your bedroom furniture. A colourful new headboard would also pack a punch – why not check out headboard options in plush velvet teal or casino crush lime from Sweet Dreams, chenille aubergine, red or teal from Bedmaster, or lavender or new ocean from Healthbeds.