Myers Sale
1 Comment
Friday, 3 May 2019 |
Best Beds Direct
Myers are a Huntingdon based bed and mattress manufacturer which dates back to the 19th century. Originally a family run business in south London, they've come a long way and now make some of the best beds around. You will find Myers beds in many high street and out of town retail centres and shops. This is why we are especially proud to be partnered with them and offering their full and entire range of online beds. I say online because like many bed manufactures in the UK, they tend to offer models for the high street, or 'bricks and mortar' and models for sale online. Why is this you ask? Surely this makes it difficult for me to simply go to the high street, try a bed and buy it cheaper online? Well, there you have it! Brands want to keep everyone in business and don't want to see a further increase in the decline of shops. So they have been clever by helping both shops and online stores, like us.
Myers relaunched a new range of beds last year. This meant new photo shoots, new specs, and new names and so on. We often get people contacting us asking for beds like the Supreme Comfort 1000. This bed was discontinued and replaced with the Myers Pocket Comfort 1000. It now has springs which are firmer around the edges of the mattress, giving a better level of comfort and on the entire surface of the mattress. The springs are now 20cm long, which is one of the longest springs on the market. The mattress filling also changed, they have Full Conjugate Polyester. This means the polyester fibres used are shaped like a corkscrew and are layered vertically instead of horizontally like most polyester fillings. These fibres recover better after being slept on, reducing the amount of natural settlement.
The Myers Pocket Comfort 1600 is the same, however it now features a responsive and cooling layer of gel infused latex. This provides superior comfort and support, while allowing you to keep cool, which means a comfy night's sleep.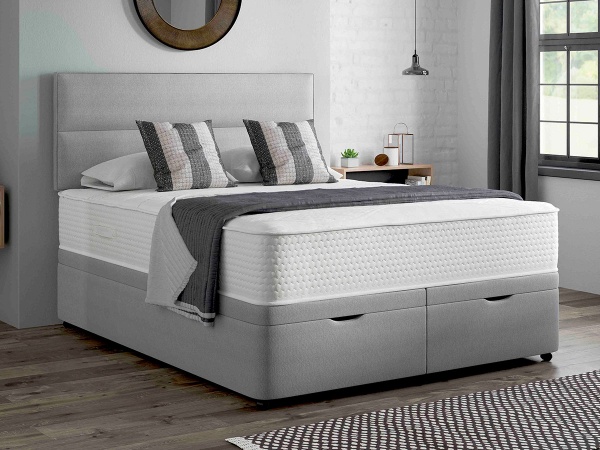 The Myers range has been simplified to offer divan bases in 2 different heights, 39cm high or 29cm - both available with the full drawer options but add something a little different depending on what look you're trying to achieve. The divan beds also come in 6 clever neutral colours, which practically go with anything. Choosing one of these colours won't be hard. We've given you the option to buy a divan bed set with an ottoman feature too, and the choice of 5 well designed headboards to complement the bed. Sometimes keeping a product choice simple means it's easier to choose. This is the case here, what's better, is that there is no chance of getting a bad bed! Myers are a large, well known and respected brand. What this means for you is that you buy in confidence and look forward to sleeping soundly!
Throughout this year, we will be running ad-hoc sales on many products including Myers. So be sure to check back! If you need any help or information on anything you've seen on our site, please get in touch!