Hop, skip and jump into a new bed this half term!
Thursday, 20 February 2020 | Best Beds Direct
The end of February is fast approaching, and the first half term of 2020 is upon us.
We all know that a good night's sleep is pretty essential to giving our best in all we do. The same applies to your kids – their behaviour at home and elsewhere, their performance at school, and their ability to retain all the important information they're absorbing. Not only are kids' bodies busy stretching and ageing, but their brains are working overtime, they're attending after-school clubs, and they're coming home with more work to do, too.
Here at Best Beds Direct, we know that bedtime can be a nightmare for parents – and, in this day and age, kids turning older doesn't actually make bedtime easier… More and more of our children own laptops, tablets, mobile phones, and are slowly but steadily getting addicted to social media, YouTube and the latest apps… Making it nigh on impossible to get their eyes off screens at night-time.
With all that in mind, this half term, why not update your kids' rooms with a new bed that they actually can't WAIT to sleep in at night?!
You may be thinking, "Good idea, but where do I begin?" Well, in great news, all our beds and mattresses come in ALL SIZES. So, we'll have the right one for you, regardless of how big or small your kids' bedrooms are…
We also know you're probably strapped for time. That's why, to save you the hassle, we've collated a brief list of just some of our great value options from three UK-based manufacturers: Bedmaster, Vogue and Healthbeds. All of the bed and mattress options below are manufactured in the UK, National Bed Federation approved, arrive with a warranty, and have multiple colour and base options... What more could you ask for?
So, without further ado, here's this week's hot picks:
The Bedmaster Emperor Orthopaedic Divan Bed Set comes with a 25cm deep mattress, featuring a 12.5g orthopaedic spring system and edge to edge support (to stop your kid rolling off the side in their sleep). Hypoallergenic polyester fillings keep them feeling comfortable and refreshed all night, and air ventilators help the mattress to breathe. The firm comfort mattress is covered with a micro-quilted finish – so your kids will just love getting into bed at night. The multiple base options are perfect for all your storage needs… and you can add a stylish headboard to finish off the overall look, too! Shop here: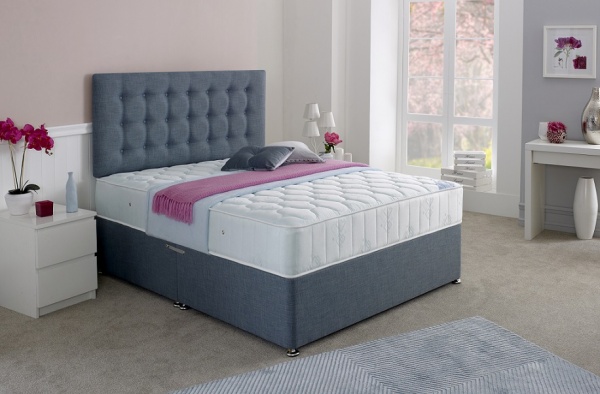 We also love the Repose Olivia High Lofted Open Coil Spring Unit Cool Touch Fabric Divan Bed Set. This comes with a generous, 30cm deep, medium comfort mattress, featuring a 13.5g open coil spring unit. Topped with carefully selected layers of quality, hypoallergenic polyester fillings, the mattress is sure to provide your kids with a comfortable and refreshing sleep night after night. Multiple base options mean there is a storage solution for any room – and we're offering you the chance to SAVE a whopping 15% on the stunning VOGUE BANBURY HEADBOARD in grey damask fabric, which will coordinate with practically any décor! Check it out here: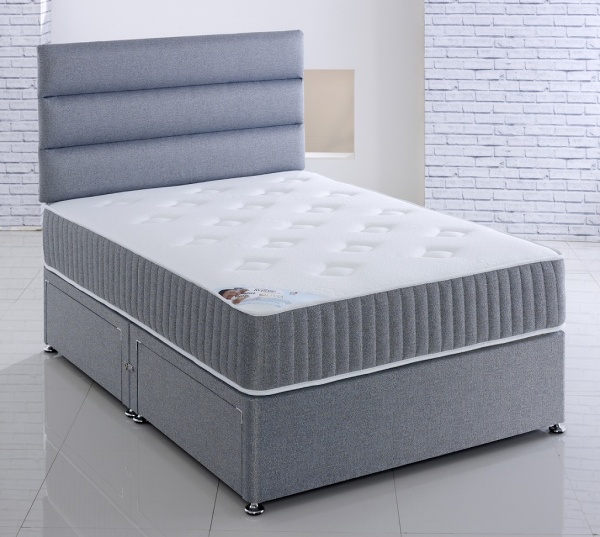 Our third recommendation this half term is the Healthbeds Heritage Cool Memory 1400 Pocket Sprung with Breathable Cool Memory Foam Divan Bed Set. This 26cm deep mattress features 1,400 individually nested pocket springs, which are cleverly designed to evenly distribute weight across the entire surface. The mattress is topped with a layer of next generation premium Cool Memory Foam, which is specially developed to keep you feeling fresher while giving your body head-to-toe pressure support. Four flag-stitched handles make the mattress easy to rotate, to ensure a long life. We are also offering TWO FREE DRAWERS with this bed, and an opportunity to SAVE a huge 15% on the superb CERYS HEADBOARD in your selected fabric – so you're bound to find a colour you love! Find this smashing deal here:
So, there you have it – three fantastic British bed and mattress options, perfect for any room and any prince/princess.
If you've got any questions about our products, service, or smashing deals, please get in touch and a member of our team will be happy to help.