Day beds and guest beds
Tuesday, 18 February 2020 | Best Beds Direct
Guest beds are a question we get asked a lot about. We have plenty of people come into our bed shop in Thetford, Norfolk, looking for all sorts of pull-out, day beds, guest beds and trundles beds. Quite often, the customer isn't totally sure what they are looking for or indeed what is available to them. There are a wide range of day beds and pull out beds available. Most of which are designed for different purposes and uses – though all are designed to be slept on! If we are talking about making the best use of space in a spare bedroom, then the guest bed is the best option. A guest bed is great because it is essentially a single (90cm/3ft) divan bed, but with the added bonus of having a small single (75cm/2ft6) mattress hidden underneath inside the divan itself. The 'spare mattress' can be easily pulled out from underneath and erected to create a double size bed. These are the perfect space saving solution for obvious reasons. These are also a popular choice because the divan bed itself can be upholstered in a variety of fabric colour options, the same as any divan bed set. This means an attractive, colour coordinated headboard can be added to complete the look and bring the bedroom décor together nicely. Most manufacturers make perhaps one or two different upholstered guest beds, usually encompassing an already popular and good value mattress. We would recommend either the Bedmaster Maestro Guest Bed. This features the very comfortable Maestro mattress which is a 12.5g coil spring unit, which is a nice medium to firm rating. The mattress is double sided and 25cm deep, meaning it can stow away under the bed perfectly when not in use.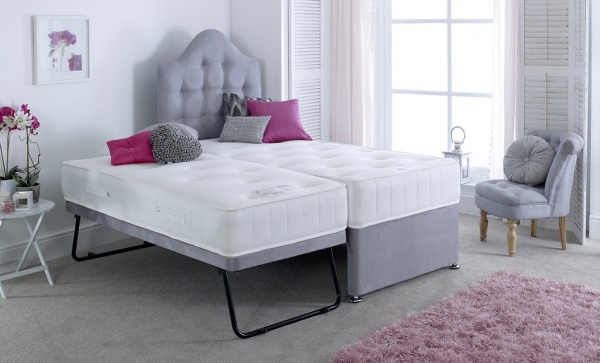 Alternatively the Bedmaster Neptune guest beds fits the bill well. Very similar to the Maestro guest bed, but this time featuring a 13.5g coil spring mattress which is slightly softer, and graded as medium feel. This mattress has a micro quilted top making is a popular mattress as a guest bed, mattress or divan bed set. Both of these represent excellent value and quality. They can be delivered in just 3 days and are delivered to your room of choice and choice of day delivery, time slot and pre-delivery phone call.
We find this style of traditional guest bed to be the ultimate choice due to its versatility, customisable options and comfort. As the bed is a standard 3ft size, it takes up a small amount of floor space and works perfectly in a guest room or spare room. We have also seen an increase in popularity amount parents purchasing this style of guest bed for their young children, and even for a child's first bed! We get a great deal of satisfaction out of providing parents with their children's first bed, especially when we know they have brought such a great product, which is comfortable and long lasting. Remember, once you have a guest bed, you can swap the mattresses around in time should you find the need to do so.
Remember, if you have any questions about anything in this blog or anything bed related, please get in touch!